Kerosene Oil Leak at home? Don't stress! Call the experts at Nationwide Oil Leaks.
We have in depth knowledge on what action to take should you have a domestic oil leak.
Why is my oil tank leaking?
There are many reasons you may find a kerosene oil leak on your property. One being the age of your oil tank. Tanks can vary in material from metal to plastic, each carrying their own risks. A metal tank may become rusted and cause a leak where a plastic tank has the potential to split. The average use of a domestic oil tank is 10 – 15 years, although some may last upto 20 years.
A damaged fuel line has the potential to cause untold damage. From a slow drip to a faster flow of oil, many litres of oil can seep into the soil or even your foundations before you are aware of an issue.
Components at the boiler end of the fuel line may become weather beaten and fail to remain tightly sealed resulting in a home heating oil leak.
What can I do?
If you become aware of a kerosene oil leak on your property the most important thing is to assess the situation. How much oil has leaked/spilled? Turn off the oil supply valve at the tank. Stopping the flow of oil will limit the damage if the leak is in the fuel line.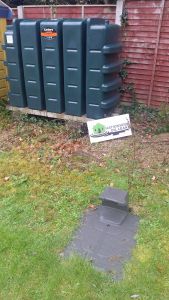 Did you see or smell oil? If you can smell oil but not see it, the leak may be under your property. For example, under the foundations of your home. This may have health implications for the residents of the property. Fumes from oil leaks can cause headaches, dizziness and irritation of your throat, nose and eyes.
Secondly, limit the spread of oil. Spreading an absorbent material such as saw dust, newspapers or even cat litter will soak surface oil. It is important to correctly dispose of the absorbent material by shovelling it into sealed plastic bags and arranging collection by an environmental specialist.
Call for help!
On the surface, an oil leak may seem small. Underground however may tell a different tale. Soil does not filter oil. Therefor it may travel underground and into nearby waterways. This may have a huge impact environmentally. It is important that environmental agencies are informed of oil leaks / oil spills.
An inspection of your property by an environmental specialist will determine the extent of damage caused. The cost of the inspection works may be covered by your home insurance company. It is important to seek the advice of an Insurance Loss Assessor to work on your behalf when dealing with your insurance and what's included in your insurance policy.
Most importantly.. call us!!
Nationwide Oil Leaks can and will advise on questions / queries you may have. We have a close network of oil remediation specialists, contractors and insurance loss assessors we can recommend.
Call John on 087 2333 883.